View Other Content
Search Articles
Recent Articles

0
The Most Grueling Race on the Planet!
May 03 2013 05:41 PM | Gavin in
Articles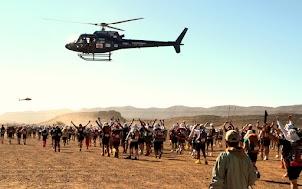 The Marathon des Sables otherwise known as "The Toughest Footrace on Earth" is...
...a multi-day 'ultra-marathon' or 'ultra' run in six days over a course of between 150 and 156 (254km) miles.


Which by the way is the equivalent of:
Running from London to Dover, deciding not to go to France after all, and running back again, in 120 degree heat. with a backpack on, and voices in your head talking about cold beer!

As an example of what lies beyond the starting line, the longest single stage in 2012 was 51 miles (81.5km). Typical distances are 156 miles (251 km) broken down as follows:

Day 1 - 33.8 km. Day 2 - 38.5 km. Day 3 - 35 km. Day 4 - 81.5 km. Day 5 - 42.2 km. Day 6 - 15.5 km



The actual routes and formats change every year. The Race Director and his team spend a month meticulously planning routes that are held secret until the day before the event starts. There is a rest day after the longest stage, but it may well take you into that day before you get to the finish. Competitors stay overnight in a bivouac village, comprised of tents that sleep about 8 competitors per tent. Once you get your 'bivvy' your bivvy team become your family, your support team, your nursing team and invariably they become long-term friends. The most memorable sound of an evening is the rumble of weary laughter that echoes around the village.

The organisation comprises of:
100 Volunteers on the course itself, 400 Support staff overall, 120,000 Liters of mineral water, 270 Berber and Saharan tents, 100 All-terrain vehicles, 2 'Ecureuil' helicopter, 1 Cessna plane, 3 Mountain bikes, 6 'MdS Special' commercial planes, 23 Buses, 4 Camels, 1 Incinerator lorry for burning waste, 4 Quads to ensure environment and safety on race, 52 Members of medical team, 6.5 km Elastoplast, 2,700 Compeed, 19,000 Compresses, 6,000 Painkillers, 150 Liters of disinfectant, 1 Editing bus, 5 Cameras, 1 Satellite image station, 6 Satellite telephones, 15 Computers, fax and internet.

Demographic:
30 % Previous MdS competitors, 25 % UK & Ireland entrants, 30 % French entrants, 14 % Women, 45 % Veterans, 30 % In teams of three or more, 10 % Walkers, 90 % Alternate walking and running, 14 km / hr : average maximum speed, 3 km / hr : average minimum speed, Age of youngest competitor : 16, Age of oldest competitor : 78.

Race Summary:
The MdS is a six day race. There is only one rest day. The distance is about 254 km - that's 156 miles! The longest stage is about 91 km - that's 55 miles! You may struggle to explain to people why you would want to do this!
Sounds like the toughest race on earth to me. Any TRF'ers thinking about ever doing this? You might want to apply now if you intend on securing a spot in 2015

Article: The Most Grueling Race on the Planet!