View Other Content
Search Articles
Recent Articles

0
Nick Symmonds: Inspiring Runner of the Month
May 08 2013 04:26 PM | Gavin in
Articles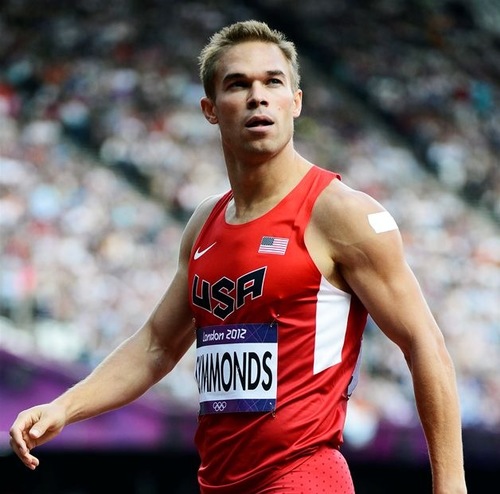 Hey TRF! You have selected
Nick Symmonds
for TRF's 1
st
Inspiring Runner of the Month for May based on popularity of responses received. Please fill out the poll to select the upcoming months Inspiring Runner of the Month. And as always, send me a message about who you'd like to see an article written about and ways that I can improve this. I am trying to give TRF a clean and concise view of an inspiring runner, in a way that isn't swamped with citations and quotes. Therefore sources are listed at the end of a very paraphrased paragraph, giving credit where it is due.

Nick Symmonds
Source:
@NickSymmonds
How It All Began
Nick Symmonds was born on December 30th, 1983 making him 29 years old today. He was raised in Boise, Idaho by his father, Jeffrey, a surgeon, and his mother, Andrea, a teacher. Now he sounds like a pretty typical American kid, until you learn of the beginning of his running career. Nick is a 9-time Idaho High School State Champion, including huge victories in the 800m, 1600m, 3200m, and 4 x 400m relay. He boasts some pretty impressive times in high school including a 1:53 800m and 4:19 1600m. But this was just the beginning. (
1
)
He decided to go to Willamette University in Salem, Oregon. Surprising to many, this is a NCAA Division 3 school. On top of this, he majored in biochemistry and was a member of the Sigma Chi fraternity. A non-traditional route for many pro's we see today, let alone Olympians. He won the 800m at the NCAA championship meet every year of college with a college-best time of 1:45.83, earning him the #1 spot on the NCAA Division 3 all-time list. He also won the 1500m three years of college with a college-best time of 3:40.91 putting him at #3 on the NCAA Division 3 all-time list. (
2
,
3
,
4
)
Many would say this is an impressive and radical start to an elite career.
Pro Career: The 800m
Upon graduation, the Oregon Track Club Elite picked up Symmonds. Though at this time he was still largely under the radar as a pro. His first stand out race came from a huge upset to Yuriy Borzakovskiy in the 800m at the Prefontaine Classic meet, winning with a 1:44.54. One year later he shows up to Eugene, Oregon again, this time for the 2008 US Olympic Trials in the 800m and wins with a new PR of 1:44.10. These two events kickstarted his pro career and got his name recognized by many. Announcers began to focus in on the Oregon Track Club trio including of Symmonds, Andrew Wheating and Christian Smith, as all three qualified for that years US Olympic team for the 2008 Summer Olympics in Beinjing, China. Although Symmonds finished only fifth in his semifinal heat with a time of 1:46.96, he did only finish 0.73 seconds behind the winner of the heat. (
4
,
5
,
6
,
7
)
Quickly this loss was forgotten about, and Symmonds refocused his training and attention on the USATF Champions the following year. He went on to win in 2009, qualifying him to move onto the World Championships to represent the United States. This made him the first American qualifier since 12 years prior, in 1997. Another solid and groundbreaking run, but again not very satisfying to the press as he finished in sixth, running 1:45.71. (
5
)
"One year later" seems to be a trend as one year later in 2010, he again shaved his PR down to 1:43.76 in the IAAF World Challenge meet in Italy finishing third. (
8
)
Over the next year the world seemed to forget about Nick Symmonds and his incredible accomplishments in the 800m. However Symmonds came back to qualify for the 2012 Olympics, his second Olympic appearance. In the finals of this famous 800m race, he ran an astonishing PR of 1:42.95, taking 5th in this incredible race in which David Rudisha snagged the world record in 1:40.91. (
9
)
Symmonds has had one of the most progressive careers I've seen for a mid-distance runner, or any runner for that matter - constantly battling against the toughest competition and getting better every step of the way. Although he might not be winning all of these big races, he puts himself into the toughest 800m races he can find, with the toughest competitors from all around the world. He's defeated many great runners, while falling short to many others. His persistent nature, consistency and improvement is inspiring to all runners that race.
And he's not even done, Symmonds is still training and racing year round!
Let's not forget that this crazy 800 runner has also run 3:56.72 in the mile. (
10
)
Personal Record: Highlights
400m - 47.45 in 2012
800m - 1:42.95 in 2012
1500m - 3:36.04 in 2008
Mile - 3:56.72 in 2007
What He's Like Outside of Running
Nick Symmonds' website has a bunch of fun facts about Nick. Did you know that he's faster than 99.9% of the population of the world? Well, maybe. But did you know his favorite shoes are between the Nike Victory Elites and the Nike Zoom Mambas? Or how about that Nick is a Beer Mile Champ? All right still about running I guess.
Nick has a pet bunny named Mortimer and he wants you to know it! No I'm not lying. (
3
)
Not surprisingly, Nick is a badass off the track just as he is on it. He's a fisherman, hunter, hiker, surfer and paddler AND he got a date with Paris Hilton by asking her dad. How? Because he's the coolest guy on the track, often referred to the Brad Pitt of the track. (
11
)
Symmonds has experienced Season Affective Disorder otherwise known as Seasonal Depression in the winters. It has moved him to own a tanning salon and encourage tanning in the winter to combat this disorder. (
12
)
And lastly, to add to his accolades of awesomeness, Symmonds sold a part of his arm for a temporary tattoo - for $11,100. This seemingly harmless move however was fairly politically driven. Symmonds has to wear white tape over it at some races due to red tape from what he believes to be the governing bodies of the sport, but also of all athletics and the world in general. He's not ashamed of his position and has gained massive support and praise from fans and other athletes, as well as some criticism. (
13
)
Sources
1.
Wiki
, 2.
C
MS
, 3.
NickSymmonds
, 4.
USATF
, 5.
OregonLive
, 6.
YouTube
, 7.
ESPN
, 8.
FreeLibrary
, 9.
London 2012
10.
Flashwest
11.
Huffington
12.
RegisterGuard
13.
OutSports
Why is he inspiring to you TRF?
Why did some of you select Nick Symmonds for TRF's first ever Inspiring Runner of the Month?
Didn't hear about him until now? What did you learn and like about him?
I know for me, Nick Symmonds races hard against hard competition. He challenges himself to no end on the track and this is absolutely the most inspiring thing about him. He runs one of the hardest events in track, and has been a part of two world-record setting races.
I also admire him standing up for what he believes in off of the track, trying to build awareness for athlete rights - and perhaps professional runners' rights. Symmonds being an outdoorsman is also inspiring to me, as he is not completely absorbed 100% in running and does what he enjoys outside of it.
theshoeaddicts likes this
Article: Nick Symmonds: Inspiring Runner of the Month