View Other Content
Search Articles
Recent Articles

0
Autistic Twins Find Joy in Running
May 05 2013 12:33 AM | Gavin in
Articles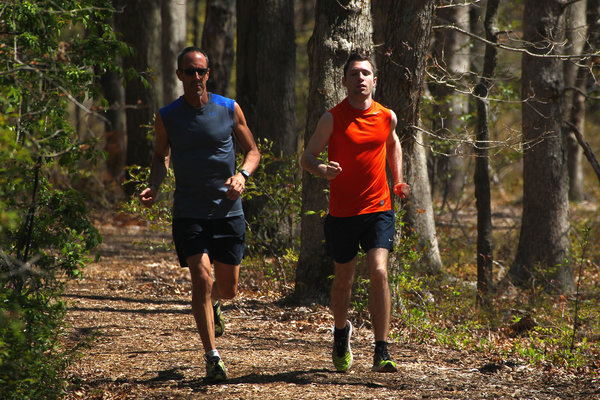 Alex and Jamie Schneider run seemingly on instinct, saying nothing and drifting into a cone of concentration. They are autistic 22-year-old identical twins from Long Island whose passion is to run for miles at a time. The twins, who are nonverbal and can exhibit severe behaviors like self-injury and tantrums, have completed more than 120 races, including five marathons and eight half-marathons, over the past seven years.



Jamie Schneider, left, with his mother, Robyn, who said her sons "thrive on the repetition and routine of racing."

"They thrive on the repetition and routine of racing," said their mother, Robyn Schneider. "You finish, get a medal, high-five everyone at the finish line and go home."


The twins have photographic memories of every course they run. But they cannot safely cross a street by themselves.

Three days a week, they train on wooded trails through Bethpage State Park. On Tuesday, they were running sprints, accompanied by their father and Kevin McDermott, 54, a floor installer and running coach from East Islip who has worked with Alex since 2006.

Alex and Jamie run with identification tags on their wrists and sneakers that include their diagnosis and contact information. They each run races with at least one guide to help keep a steady pace, provide water, avoid hazards, navigate crowds and deal with their reactions to noise and other distractions. The guides use simple commands and hand signals to keep them focused.

"Alex doesn't understand pacing," McDermott said. "He starts out too fast because he doesn't know when the race is going to end."


McDermott sets the pace by running a step ahead, with his hand trailing so Alex can tap it to show he is alert.

The family began running on the beach when the boys were about 8; Special Olympics races followed when the boys were teenagers. The twins gained more experience with the Rolling Thunder Special Needs Program, a club for mainstream and challenged athletes.
Source: New York Times - Running.The article also highlights this family's experience at the Boston Marathon.
A touching story about two 22-year old autistic twins from Long Island that find joy in running

To me this is a huge amount of dedication and love shown by these two parents that have successfully worked with the challenges that autism brings about. There has been an overwhelming amount of research in autism and other behavioral disorders recently that have identified exercise as being a positive therapy for many negative behavioral symptoms. The Schneider family seems to agree and be a great example of where future autism therapy and research could potentially be headed.
And to leave you with a smile,
"Alex won't stop running until I give him the 'all done' verbal cue," McDermott said. "He'd keep running till he dropped. He's a Zen runner. It's the pure experience he loves."
Article: Autistic Twins Find Joy in Running