View Other Content
Search Articles
Recent Articles

0
14 Year Old Sets Marathon World Record
Apr 10 2013 07:56 PM | Brianna in
Articles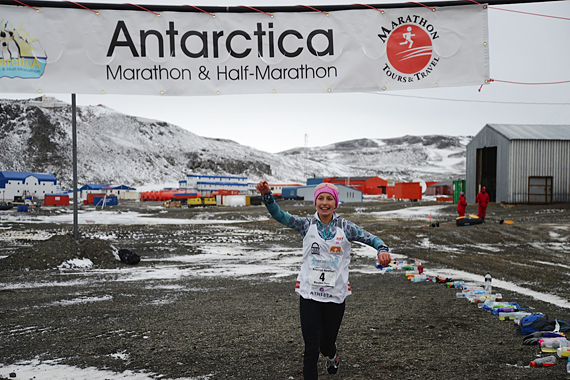 Article Courtesy:
www.athleta.net
THE JOURNEY BEGINS
They say the Drake Passage has the roughest seas in the world. Today's 60-knot winds and 35-foot waves reassured us of that fact. We clung to items being thrown across the ship and struggled to keep our footing. Somehow it seems we have not yet crossed the finish line for the 2013 Antarctica Marathon. The true finish line might not have been on King George Island on Saturday, March 30th, but instead might be the rounding of Cape Horn and putting our feet on South American soil. This was an incredible journey to the start line as well as an equally memorable journey returning from the finish line.
One hundred and five passengers, including myself, climbed aboard Akademic Sergey Vavilov on March 26th, 2013. Our ship was docked in a city called "Fin del Mundo" (The End of the World) Ushuaia, Argentina. My intent, to conquer 26.2 miles on a third continent as part of my mission of completing a marathon on all seven continents before turning 15 years of age. I am attempting a world record not for me, but in memory of my dad and the one in six men affected by prostate cancer. Awakening the first night on the ship, to my bed moving across my small cabin room and coffee cups sliding off the desk towards my head, I soon realized getting to Antarctica wasn't a trip to be taken lightly. Many passengers were not seen for the first two days as we crossed the rough, Drake Passage waters. My motion sickness patch and I were quickly inseparable. By day two my only enemy was overcoming dry mouth, caused by the patch, and making certain I stayed hydrated. Getting a few small runs in on the ship before race day was impossible due to wet, slippery ship decks. This was not going to be a normal week of pre-marathon preparation. The three-week delay in our voyage, thanks to an iceberg damaging our original ship, left us with the stark reality that we were the last ship left in the waters of the Southern Ocean at this time of year.
A stormy day on King George Island on pre-race day caused a half-day delay in getting the race crew ashore to mark the course. Normally, the day before race day we would all go ashore and rid our sea legs. This was not to be, as it was a challenge just getting Zodiac boats loaded and to shore with race crew and ATV's. Our sea legs would haunt many of us on race day. That evening, a pre-race pasta dinner was served and anxiety ran high as to what race day weather conditions might be. Many feared the Katabatic winds that notoriously roamed these parts. These winds have been measured to speeds of 199 mph creating a runner's nightmare. One thing was for certain; mud would not be an issue this year as temperatures were hovering in the low twenties.
THE ULTIMATE PURSUIT
Race morning was not the norm! We awoke to a light pre-race breakfast of bagels, oatmeal and a ration of only one banana per person. Only nutrition lacking eggs, nuts and seeds could be taken ashore on Antarctica in an attempt to prevent spread of disease and the depositing of seeds that might possibly take root. No wrappers of any sort were allowed so our gels, bars and electrolyte chews had to be placed in a container that wouldn't blow away. Our goal: a zero impact on Antarctica, other than our footprints. The only water and electrolyte beverages available were those that we took on the island with us. I loaded up three bottles — two with water and one with lemon lime Infinit Nutrition, my electrolyte drink of choice for race day.
Each person loaded their backpack with the usual Antarctica marathon supplies: hand warmers, extra layers of clothing, extra socks, extra running shoes, cameras, face masks, goggles, sunglasses and more. Ninety-five runners were now loaded on Zodiacs for the mile trip to shore. It was only then that weather conditions were evaluated and race clothing was determined. The temperature was about 22 degrees Fahrenheit and the wind noticeably absent! The only hint of a breeze would be found along a section near the ocean. We knew nothing about the course other than what we were told at the race briefing the night before: two out and backs, each done three times and very hilly. Every year the racecourse had changed due to weather and getting permission from the surrounding international science stations (Uruguay, Chile, China and Russia).
For Full Article:
http://www.athleta.n...-and-much-more/
Article: 14 Year Old Sets Marathon World Record